We're an animation company set up in 2015 by Michael Cutting, a NUA Animation Graduate specialising in digital animation production. Mike works closely with a talented group of business associates that offer a diverse range of skills from character design and animation, music production and sound design, to IT and technical assistance.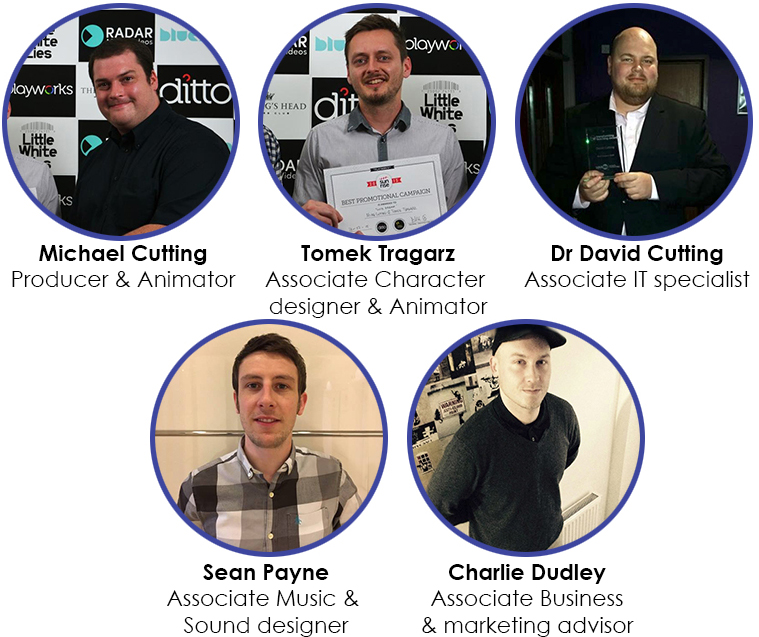 Our office is based at the Ideas Factory in the heart of Norwich City Centre and can offer a wide range of creative and animated content, with tailor made music and sound effects. If you choose to use us for your project we'd be happy for you to come in to the Ideas Factory where we can use one of the modern boardrooms, and review the project on one of the large TV's. If this sounds like something you'd be interested in, please feel free to get in touch.

Here's what some of our previous clients have to say:
I was introduced to Mike through a contact at the Norwich University of the Arts. I needed someone who could create a visual summary of my company's microplate technology. A few meetings and emails between Mike and myself resulted in exactly what was required – a simple yet elegant cartoon of how our microplate technology works. I will definitely be a return customer as Mike is very easy to speak to, he listens carefully to you, he delivers a quality product and I highly recommend him. In summary, an excellent collaboration.
Mike is a responsive, considered and talented Animator. He was able to quickly and articulately translate a verbal and written brief into an animated trailer for our community cinema scheme, Village Screen. He listened and responded effectively to feedback, he identified, welcomed and worked well with other creative providers and managed the process from start to finish in an efficient manner and with good humour.
We would be very happy to contract his creative services again and to recommend his work to others.
Mike has produced excellent animations for our website and for social media, these have been helpful in quickly communicating what coaching is about. Through skilful questioning Mike has helped us to think more clearly about the messages we want to communicate and the best ways of using animation to achieve that.
As an individual, Mike takes a great deal of care and attention to building open and honest working relationships. Mike is both observant and diligent in his approach, always checking in with us to safeguard our ideas and accuracy. I would highly recommend him to anyone who is hoping to create powerful animations to secure new business and communicate key messages.